A lovely client asked me last fall if I would be able to do a makeover on a dining room suite she'd acquired. She has two booths in the Sentimental Journey Antique Market out in Nanton and it would be heading there when completed. Not having ever taken on such a big project before, I was intrigued at the challenge. Well, that was last fall; these several months later, I'm still plugging away at it. Thank goodness for patient clients!!! I new it would be a big job, but I had no idea the enormity; and let me just add.......NEVER AGAIN!!! Well of course, unless it's for me!
It feels at times like I will never have it finished, but I'm at least getting close. I finally got the china cabinet back together last night. This was no easy project let me tell you. Since only the two centre doors open, I had to very carefully remove the back of the hutch in order to paint the interior. I have learned that nothing ever goes back together as easily as it comes apart. So I had several sleepless nights worrying about getting it back together. The back went on just fine, but the doors were another story. I absolutely love how this turned out. I teasingly told my client that she may not get it back.
I linked up with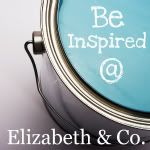 'be inspired Tuesdays'
Caio for now.