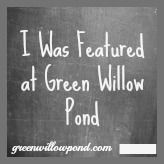 I am a sucker for anything with caning on it. My only condition is it must be in perfect shape, no punctures allowed! I don't have the patience to redo caning and it's quite expensive to have re-done.
When I found this dated chair with it's perfect cane, I new that it would be a beautiful makeover. Actually, there were a pair, but sadly only one had the cane intact. My upholstery skills are limited, but I find that with most things, if I take it one step at a time and be sure I remember how it came apart, I can usually get the job done. I didn't even have any left over pieces. Yaaaaay!!!
The before pictures......
taking it apart
Don't you just hate trying to remove those darn upholstery staples? There were three layers of staples on this baby. Oh my poor beat up hands!!
Finally, down to the bare bones of it!!
and here it is painted in Behr's Polar Bear White
I felt that the look of the separate cushion was dated and I wanted a cleaner look. So I merged it with the base by wrapping them together with two layers of quilt batting.
I used a drop cloth for the upholstery, but I washed it several times to soften it. Now, here is where I ran into trouble. I went to Staples and printed a mirror image of the vintage french graphic I was using. It came from the
Graphics Fairy
and though I've attached the jpg for you below; do check out the graphics fairy website as its a fantastic resource for copy write free graphics. I'd planned to use Citri-solv to transfer the image, but it wouldn't budge from the paper at all. I've found copies from cheaper laser printers work better with Citri-solv. Incidentally, if you're new to transferring, there are several transfer tutorials on the graphics fairy blog as well. So failing the Citri-solv method, I got the brilliant idea to try transferring the image using an iron. This worked, but instead of transferring in black, it came out a rather ghoulish dark green. Unacceptable!!! So finally I went over the whole image using a sharpie black paint marker and then washed it a couple times to age the transfer for that vintage look.
Here it is in place waiting to be attached and finally attached and reassembled.
You can read about the pretty end table shown below in this post
here
.
The chair will be heading to my booth at my local antique market.
I'm partying at: