I love these type of tables, so even tho this one was an ugly beast when I found it, I knew it could be so much prettier.
If you haven't guessed (and I hope you have), this is of course, the after picture.
The base was painted Behr's Porpoise grey, then dry brushed with a pretty french blue, and given some touches of gold leaf paint. The top is Behr's Polar Bear white. A vintage french perfume label, compliments of a pinterest user, was decoupaged on to the top. Isn't she a beaut?
Incidentally the door behind her is mid process in a makeover of it's own. Watch for that story to come!
here is the before picture
I had already started priming the bottom and pulled the drawer out when I realized I'd forgotten to take the picture. The base was black with gold leaf paint. Very dated and oh so ugly!!!
As is often the case, I will have a hard time parting with this when the time comes. But she is destined for a summer sales event I think.
Of course as I like to do, here is the vintage perfume graphic if you are interested. Thank you pinterest user for uploading it.
Linky parties I've posted to:
Nifty Thrifty Tuesday at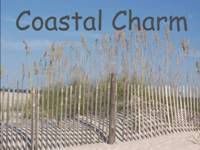 Feathered Nest Friday at
Shabbilic

i

ous Friday at
What we Accomplished Wednesday at
Furniture Feature Friday at
Miss Mustard Seed
Caio!